COMODO Antivirus
Eliminates all known Viruses, Worms and Trojans
Developed by one of the world's leading IT security providers, Comodo Antivirus leverages multiple technologies, including Real-time/On-Access Scanning, On Demand Scanning and a fully featured Scan Scheduler to immediately start removing suspicious files from your system.
The application also allows users to create custom scan profiles which can be re-used across all scan types and features full event logging, quarantine and file submission facilities.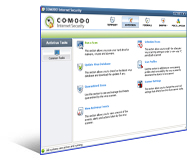 Click here to enlarge
Comodo Antivirus detects and removes threats that are present on your machine and
forms
an additional layer of security on top of the threat prevention offered by the Firewall component of Comodo Internet Security. In order to maintain maximum security levels, Comodo advise you to run regular Antivirus scans.