How to disable firewall For Windows
Windows comes with its own inbuilt firewall known as Windows Defender. This firewall is considered enough and necessary for each lightweight computer user who does light browsing on the internet. Furthermore, it works seamlessly with the Windows OS making it easy to operate and work in the background without ever needing monitoring or customization. However, there are instances when it becomes a nuisance rather than an asset. Here are some of the reasons when you might want to disable the firewall in Windows.
i. Blocking crucial programs
Sometimes the nature of work you do and the type of programs you run may get detected as malicious by Windows especially torrents and such programs. This might leave you frustrated and necessitate the need to disable your Windows Defender for a while until you're done with the program. However, doing such may leave you at risk of getting attacked by cyber-criminals, so it should always be a last resort.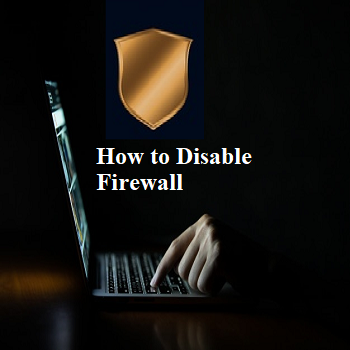 ii. Installing a third-party firewall software
Granted, Windows Defender works just fine for a light browser. However, there are times when you need more functionality than just intrusion prevention. For example, you might need malware detection and prevention, rootkits protection, antibots, and much more. In such a scenario, installing a third-party is your best bet to getting maximum protection. However, when you install a third-party firewall software, your windows firewall may misbehave and try to override your newly installed firewall. However, by default, Windows Defender will turn itself off when a new firewall is installed. If this doesn't happen, then you have to learn how to disable firewall in Windows manually.
iii. If your computer is connected to a large organization's firewall
Sometimes we might take our computers to work and get connected to the organization's firewall. In such a scenario, the organization's firewall will be more extensive and enough to protect your computer. You, therefore, can free up some resources on your computer by disabling your Windows firewall. However, only do this if you're sure that you're protected entirely and remember to enable it once you leave the organization's firewall.
Steps for how to disable firewall in Windows 7, 8, and 10
Open Control Panel. You can search it or use the Start Menu in Windows.
On the Control Panel, select System and Security for Windows 7 or go directly to Windows Defender for Windows 8 and above.
In Windows Defender, select "Turn Windows Defender Firewall on or Off."
IV. There are two options. For Private Networks and for Public Networks. You can turn off for both Networks or one of them. Note that Windows will tell you it's not recommended. If you're sure about that, you can ignore the caution.
Comodo Firewall
Comodo Firewall is a third-party firewall that will work seamlessly with your Windows computer and offer more security and functionality than the Windows Defender. It has won multiple prestigious awards in the AV-Test 2019 owing to its functionality and usability. With its host intrusion prevention system, application sandboxing, website filtering, dynamic process analyzing and scanning, kill switch to stop or block problematic processes, your internet security is guaranteed. What's more? It's simple to use for beginners and can also be customized to fit each individual's needs. Get it for $17.99 a year and get an extensive solution to your cybersecurity.